Upma is a quintessential breakfast/brunch dish in the southern part of India. Fragrant, light, low on spices and a very satisfying bowl on rainy day, it's my constant go to when I find myself cooking for 1. It not only comes together in minutes, but can also be adapted to seasons by using any produce abundant at the local farmers market. Here is my nutrient packed version with Zucchini & Kale - a healthy kickstart for a cool autumn day!
Which vegetable would you like yours with? Leave a comment!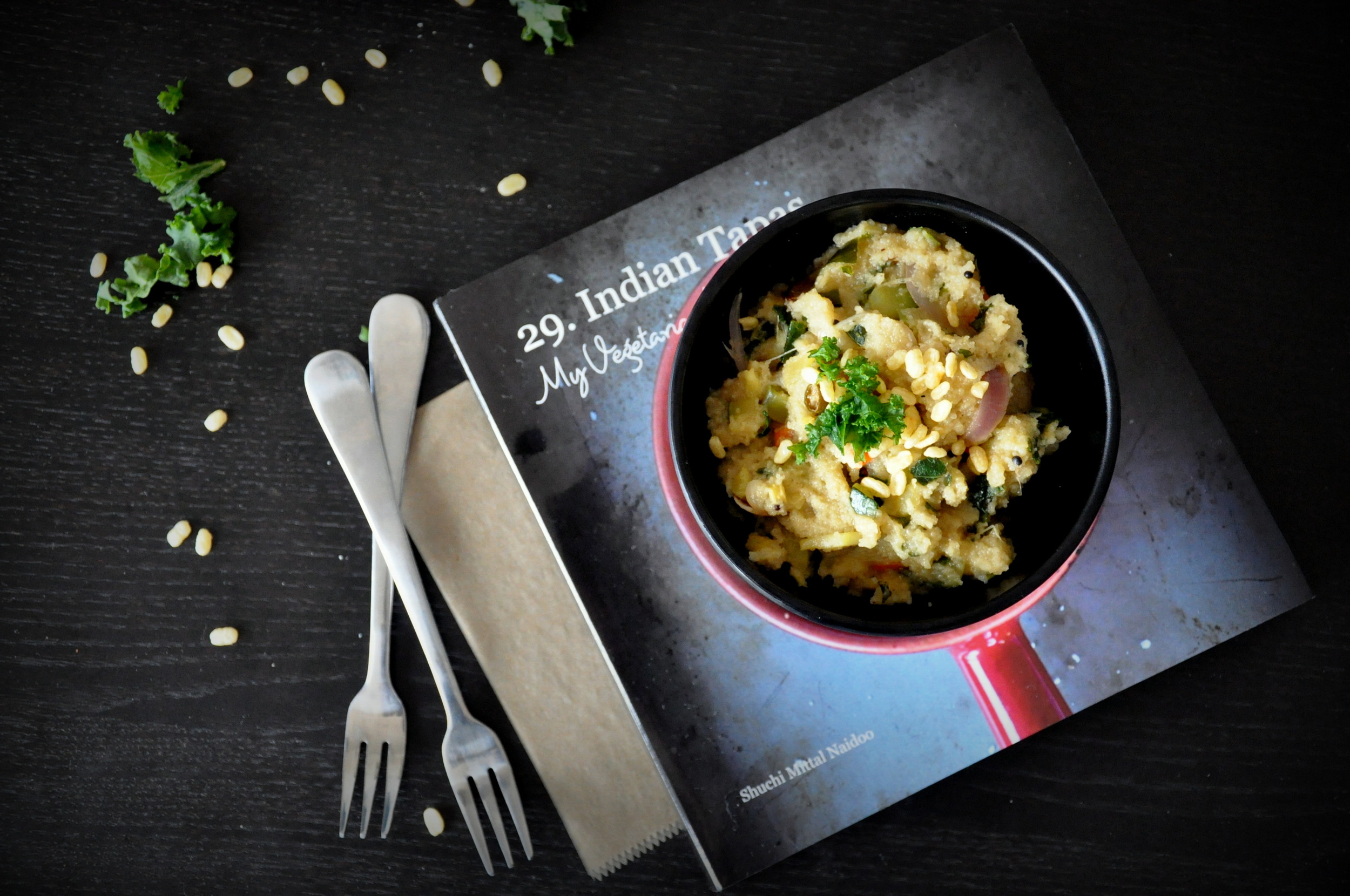 Ingredients (serves 2)
1/2 cup sooji (semolina)
1 small red onion, diced
1 green chili, finely chopped
1 zucchini, grated or finely chopped
1 cup kale, stem removed and finely chopped
1 teaspoon cumin powder
A pinch of turmeric
1/2 teaspoon mustard seeds
5-6 curry leaves, roughly torn
2 teaspoons fresh ginger, grated
2 tablespoons yogurt
1 teaspoon ghee
2 tablespoons olive oil
Dry roast the semolina in a non-stick pan till lightly brown and fragrant (6-8 minutes). Keep aside.
Heat ghee + oil in a pan. Once hot, add the mustard seeds and wait for them to sizzle. Add the ginger, curry leaves & green chili. Cook for a few seconds and then add the onions. Sprinkle some salt to let them sweat, and cook till they turn translucent. Add the zucchini, cumin powder and turmeric, mix well and cook for a few minutes till the zucchini is soft. Stir in the kale leaves and yogurt. Add 2 cups of water and let the mixture come to a boil.
Slowly add the sooji, constantly stirring to avoid lumps, and cook till the sooji is fully cooked and soaks up all the liquid (about 2-3 minutes). Turn off heat, and leave covered for a couple of minutes. Fluff with a fork (it won't be as fluffy as couscous), garnish with fresh coriander and lentil crisps (dal moth) and eat warm!
Can also be combined with a chicken or lentil curry, like pictured here during one of my events.