I am not a cookie lover, but I get cravings. And always at the busiest, oddest and most inappropriate of times. So there is nothing left to do but to make a quick batch that will satisfy the palate without completely tipping the calorie balance.
Now we all know that butter makes everything better. Butter and sugar. But the thing that I am not a fan of is bleached ultra-processed white flour. In India, the use of white flour (maida) is rather limited, and we essentially grew up eating atta instead - a whole wheat version of lour that is coarser and much less processed, typically used to make rotis (flatbreads) in North India. Whilst maida sure is used in baking & sweets even back home, I thought why not put good ol' atta up to the cookie challenge! The outcome was delicious [although I was skeptical at first]! So much so that I have stopped using white flour to bake altogether, and always use this for cakes & cookies alike.
The texture is definitely different from a 'regular' cookie, but there is nothing these little munchkins don't satisfy. And I can totally eat the entire tray fresh out of the oven! Next up, I shall try these with gluten free flour.
What is your best cookie discovery? Leave a comment!
Ingredients (makes 20 mini cookies, or 12 large ones)
1 stick butter (1/2 cup)
1/2 cup brown sugar
2 tbsp dark maple syrup
1 egg
dash of vanilla essence
dash of cinnamon
Pinch of salt
1/2 tsp baking powder
1/2 cup + 1 tbsp atta
1 1/4 cup rolled oats (quaker)
1/2 cup raisins
3 tablespoons dried coconut flakes (optional)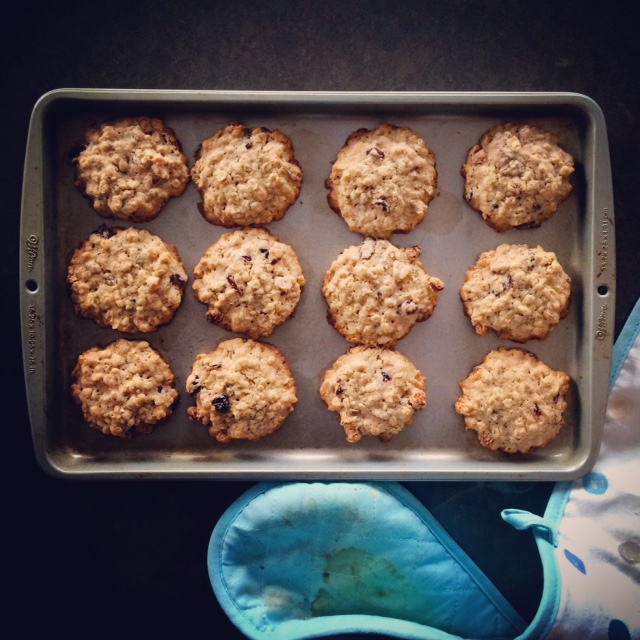 Heat oven to 350F.
Mix flour, salt, baking soda, oats and cinnamon & keep aside.
Beat butter (room temperature) with the sugar and maple syrup till creamy. Add the egg, beat well and then stir in the vanilla extract. Mix in the flour mixture. Stir till combined (do not overmix) and then fold in raisins and coconut flakes. Use an ice cream scoop to place dollops of mixture on a non-stick baking sheet (leave an inch between each scoop as the cookie will spread) and bake for 15-18 minutes or until edges are brown.
Cool & store in an airtight container, or just eat them all up! Nom!
Notes :
For an eggless/vegan version, substitute a) 1 egg with 1 medium banana, mashed, added the same time the recipe calls for egg b) 1/2 cup butter with 1/2 cup vegan butter (such as earth balance) or 1/4 cup vegan butter and 1/4 cup light olive oil. Other steps remain exactly the same.
You can also experiment with ingredients of choice, like these with chocolate (add 1/3 cup cocoa powder to the flour mixture and increase sugar by 2 tablespoons). The possibilities are endless!