"Spring is in the air, celebration all about
I will cook something worthy, of a shout out,
The smells & colors, faces with smiles
Oh! sunshine sunshine, it's surely been a while...
Rejoice with bright curries, or BBQ stews
With a sprinkling of season, long over due,
Step outside, take a walk around the lot
And pick them edible flowers, to dress up your pot! "
"Herbs" Dal meant nothing to me till a few months ago, when I made a simple spinach lentil curry and my husband says "Oh, this reminds me of our Herbs Dal". Being of South African Indian origin, my husband's foodie language is sometimes just as confusing as their mixed culture, so I decided to dig deeper. I discovered that Indians households in SA make a version of spinach lentils with a bunch of mixed greens & sour leaves. I couldn't exactly find all the 'herbs' they used, so decided to make my version with a few favourite seasonal greens.
Lo & behold, and healthy, gluten-free, vegan & super delicious lentil stew that works with breads, rice and most grains. The greens lent their flavor to the lentils, and believe it or not, the dal tastes even better the next day. Don't like it chunky? Give it a blitz in your blender for your weeknight lentil soup!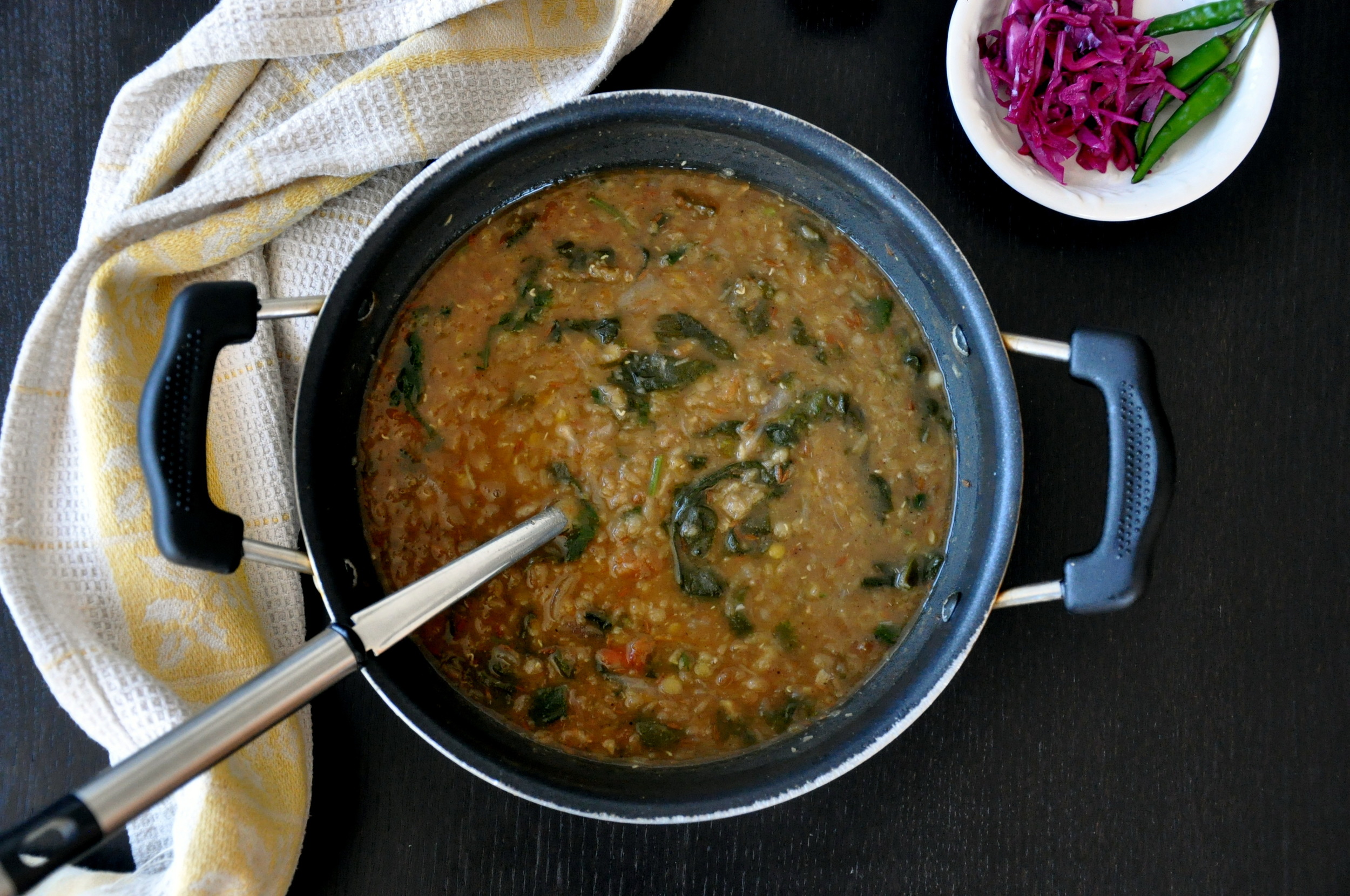 Ingredients
1/2 cup red lentils, washed & drained
1 small red onion, diced
1 plum tomatoes, grated or finely chopped
2 green chilies, finely chopped
3 cloves of garlic, minced
1 teaspoon fresh ginger, crushed or finely chopped
2 cup mixed herbs/greens - I used a mix of Spinach, Kai Lan (asian greens), Cilantro & Beet Greens
1 teaspoon cumin seeds
1 tablespoon coriander powder
1/2 teaspoon cumin powder
1 teaspoon garam masala
1/4 teaspoon turmeric powder
1/2 teaspoon dry mango powder (Amchoor)
2 tablespoons ghee or butter (use light olive or canola oil for a vegan version)
Salt to taste
Pressure cook the lentils with 2 cups water till tender (1-2 whistles). Alternatively, boil them in a pot for 15-20 minutes, till the grains are mushy. Keep aside.
Heat the oil/ghee or butter in a deep bottomed pot. Once hot, add the cumin seeds and cook till they begin to splutter & pop. Add the ginger, garlic and green chilies, and cook till the garlic begins to brown. Be careful not to burn. Stir in the onions, along with a little salt, and cook till they are tender & translucent. Now mix all the dry spices, except the dry mango powder, along with the tomatoes. Cover and cook on medium-low heat till the tomatoes are cooked through, and the oil begins to separate. Add the greens/herbs and saute till they begin to wilt and turn bright green. Finally stir in the lentils, mix well, adjust salt and cover to let the mixture simmer for a few minutes. Remove cover, add the dry mango powder, and give it one last simmer. Remove from heat and serve hot with chapatis, crusty bread or rice. I personally eat it with quinoa!