"As winter creeps up
We snuggle and hide,
From that frosty cold
That does indeed bite.
A warm meal
Makes us drool and dream,
A steamy sinful stew
With dollops of cream.
A movie and a blanket
A loving kiss,
Comfort for that hunger
That's one granted wish.
And with a stomach full
We in happiness sway,
Winter isn't that bad
When summer is on it's way.."
Ingredients
1 pound chicken mince (substitute with tofu for veg or pork/beef as per preference)
1 plum tomato, diced
5-6 cherry tomatoes, halved
1 green chili, finely chopped
1 tbsp fresh garlic ginger paste
1 medium red onion, finely chopped
½ green pepper, diced
1/2 red pepper, diced
1 carrot, diced
2 stalks of celery, diced
2 cups fresh baby spinach
2 tsp peri peri spice
1 tsp coriander powder
1 tsp cumin powder
1 tsp dried oregano
1 tsp garam masala ½ tsp dried chili flakes
1/2 tsp smoked paprika
4 tbsp heavy cream
3 tbsp grated gouda or cheddar cheese
4 tbsp olive oil
Salt & Pepper to taste
Heat the oil in a non-stick pan. Add chilies and garlic ginger paste and sauté for a quick minute. Stir in the onions, carrots and celery, add a little salt, and let the vegetables sweat till the onion begins to turn translucent. Add the peppers along with all the dry spices, except the garam masala. Once the spices have slightly roasted, add the ground chicken, mix well and cook till the chicken begins to brown on the underside. Finally stir in the tomatoes, along with 2 cups water. Cover and let the stew simmer on medium heat for 15-20 minutes. Stir in the cream and cheese, and let the cheese melt into the broth. Lastly add the garam masala and the spinach, and cook for a few minutes till the spinach is just wilted.
Remove from heat, s
queeze a dash of lime and serve hot! A one-pot wonder meal that's healthy, flavourful and gluten free!
Goes well with almost anything- breads, as a pasta sauce, on brown rice or even over baked potatoes. Take your pick!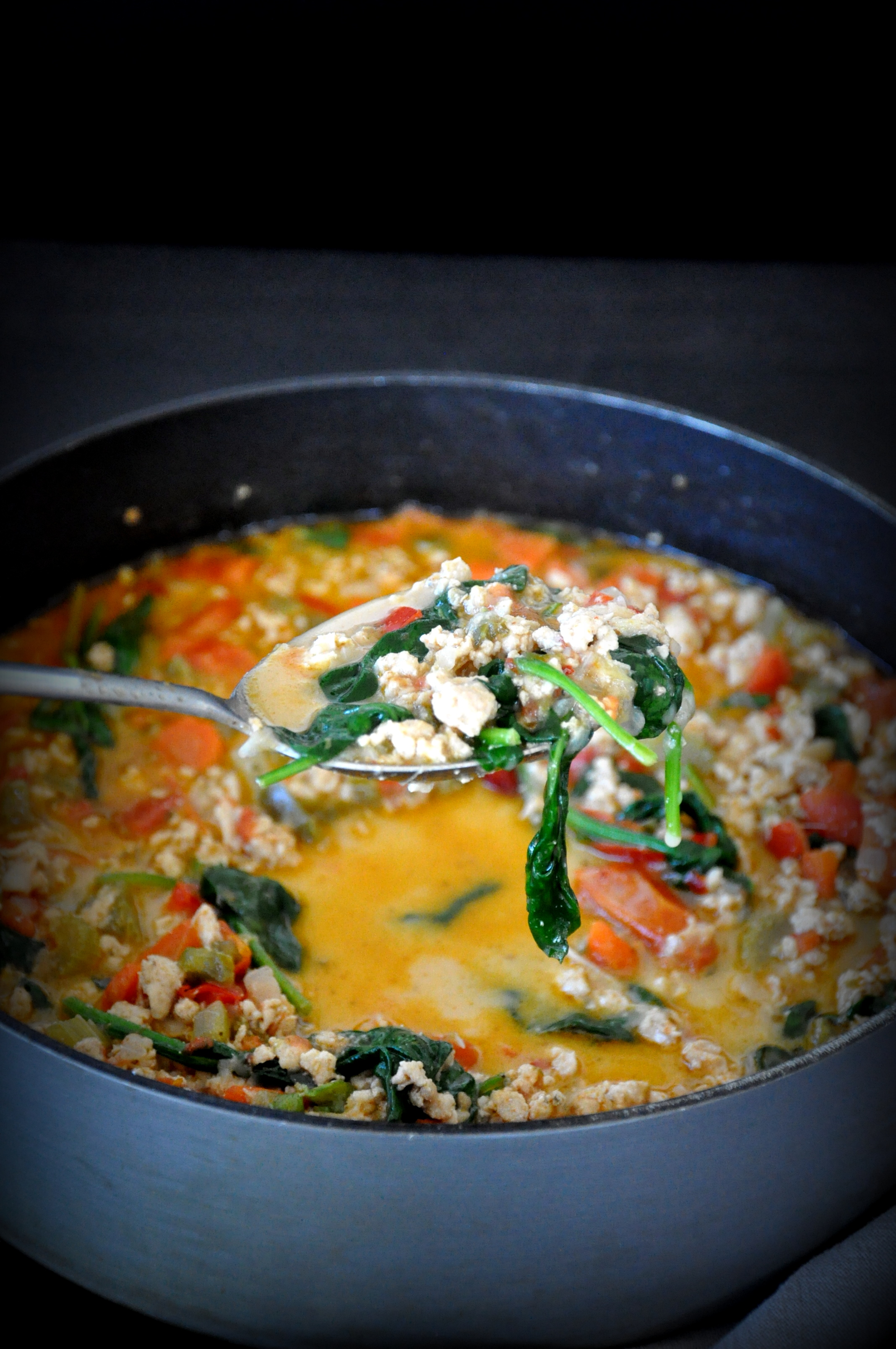 PS- Here's an old photo I had taken of a similar stew 3 years ago - same camera. I can safely say I'm a better photographer now!