"She cried and cried, till the neighbors called, wondering why she continuously bawled,
Was she hurt, was she sad? What could be behind a shriek so bad!
Her mother laughed, said she wished there was a method to her childs' fit,
But she only shed tears for that, which had smothered the sides of her lips bad
A chocolate bar, her best friend for day, had been consumed in a hurried way
And now that it was all scrumptiously gone, tears were her plot to win another one.."
Happy Thanksgiving Everyone!
With the upcoming holidays, we all need a little chocolate & red in our lives.
These little pots of indulgence are not only easy to make, but can also be made up to 2 days in advance. Ooey, gooey, rich & decadent, they're quite the year end treat. If you're not a milk/dark chocolate lover [we can never be friends!], you could simply substitute with white chocolate. A cross between a custard & a mousse, the smooth texture with a hint of spice dances in your mouth with every dreamy bite.
This, my friends, is pure happiness.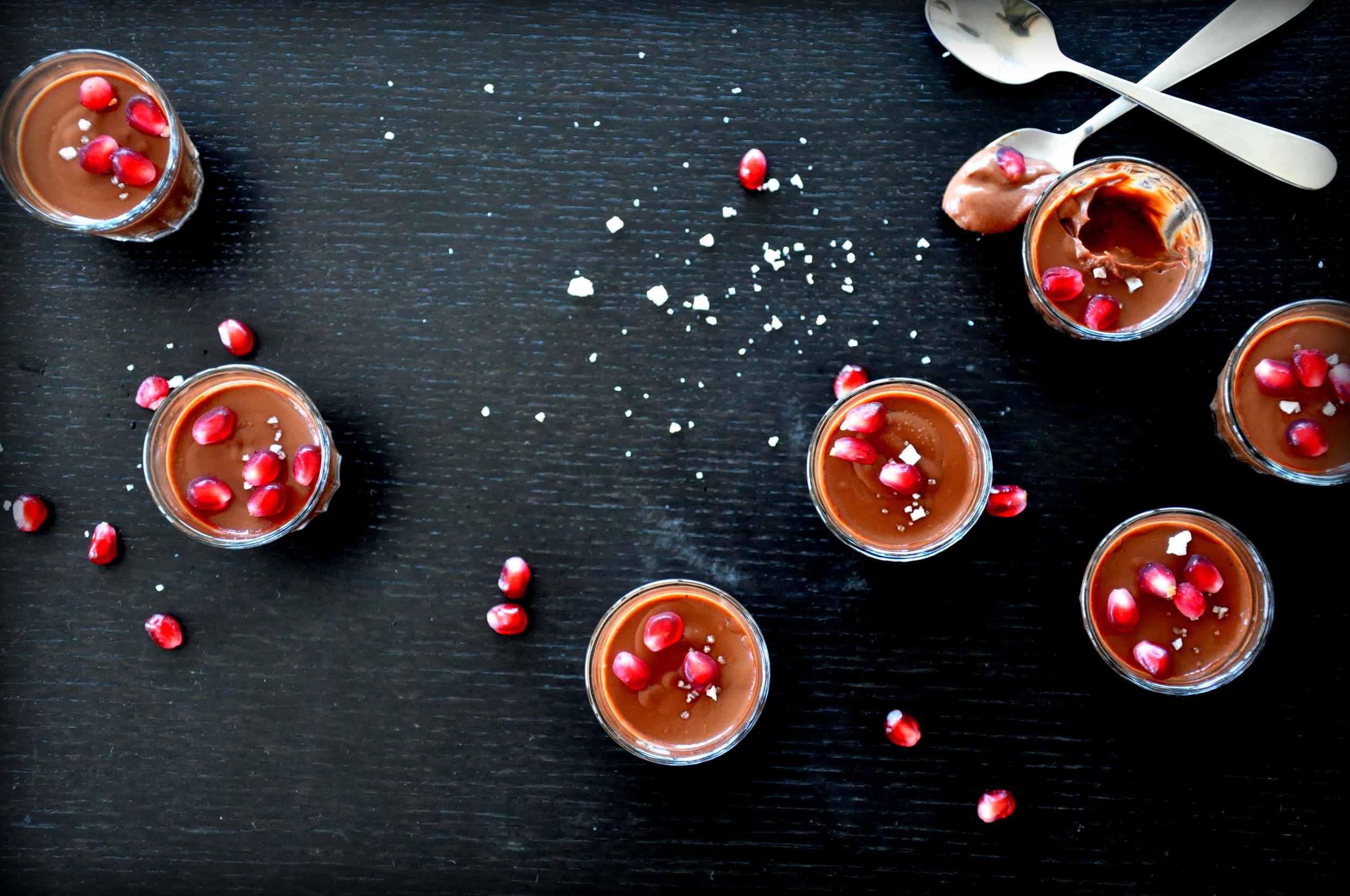 Ingredients [makes 10-12 2oz pots]
1/2 cup pieces of Cadbury Dairy Milk, Dark (75-80%) Chocolate
1/2 cup pieces of Cadbury Dairy Milk, Milk Chocolate
2 tablespoon unsalted butter
3/4 cup heavy cream
1/2 cup + 1/4 cup whole milk
2 green cardamom, crushed
2 cloves, crushed
1 cinnamon stick, broken in half
Pinch of salt
5 tablespoons brown sugar (adjust to taste)
1 tablespoon corn starch
1/2 teaspoon vanilla essence
Dissolve corn starch, salt, vanilla essence in 1/4 cup milk and keep aside.
Keep the chocolate pieces and butter in a bowl. Bring the cream, remaining 1/2 cup milk, sugar, cardamom, cloves & cinnamon to a simmer. Remove from heat, cover and let the spices infuse for 3-5 minutes. Return to heat and bring to a second simmer. Once hot, pour through a strainer (to catch the whole spices) over the chocolate & butter. Mix well till all the chocolate pieces have melted and the mixture gets a smooth, glossy appearance - like that of ganache.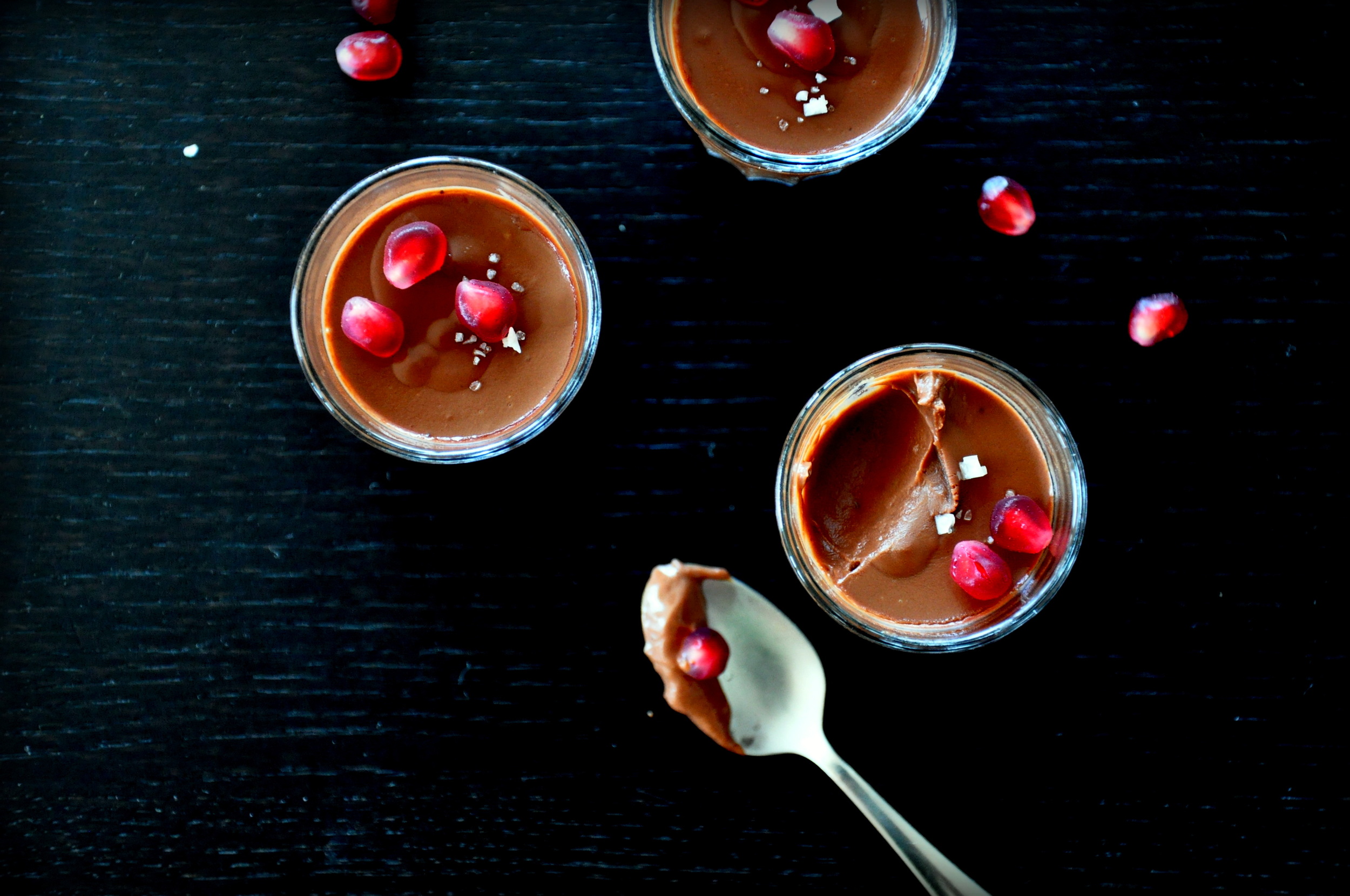 Return the mixture to medium-low heat. When the edges begin to slightly simmer, slowly pour in the cornstarch mix and stir constantly. The chocolate mixture will begin to thicken. Cook for a few more minutes, stirring continuously, and making sure the heat isn't high enough for the mixture to boil over. Remove from heat and pour immediately into serving dishes. Refrigerate till set (4-5 hours or overnight). Serve with a pinch of rock salt & pomegranate seeds for crunch & color!
An indulgent dessert for chocolate lovers, that will definitely leave you teary about the good ol' days of childhood [if you grew up eating Dairy Milk like I did!].
Now serving at my supper club events. Come & get a taste!